Build a boat! That was the stupid idea put out by Graham having received a Pinterest post including that. Big bikes, Christmas Shed, bird boxes in bulk, a labyrinth, a lean to shed extension to a Shed – largely accomplished so maybe we need a project that could engross a few specialist Shedders from across the Sheds piste!
Morning Graham,
For interest, the following videos, YouTube of course. You'd need a BIG SHED for these cobles. Interesting though. Or, at the other end of the scale, How to build a Coracle.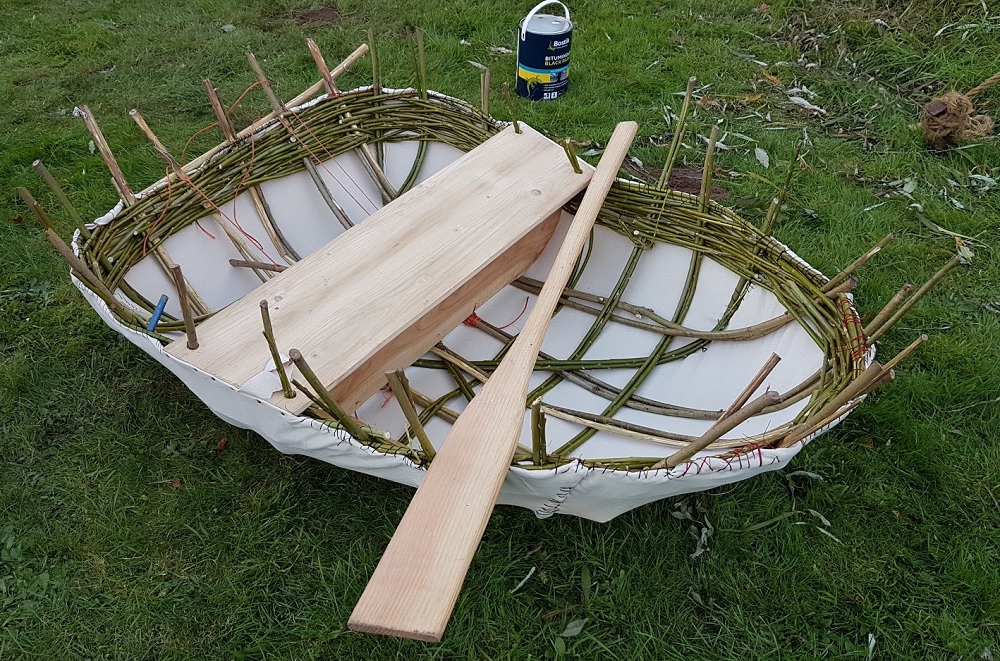 The video below takes a look at the history of Coracles, and an attempt at building one. Skip to 03:33 for just the b…
I think a Coracle might suit better – or a Mirror dinghy from my childhood:-)
Not boats this time, but Staithes Shed Malcolm is like a scattergun of thoughts!
Hi Graham,
Sometimes, it is very satisfying that a suggestion bears fruit, from small acorns etc.
I'm feeling very pleased with myself having learned this morning, made two Companies that were unaware of each others existence, aware of each other such that they are now talking. Early days yet but marvelous if something comes of it. Very satisfying.
Hybrid Air Vehicles are looking at electric propulsion for their Airlander vehicle and, by chance, I spotted Equipmake, based in Norfolk, that have, using 3D technology, developed a very compact/dense Electric Drive Train motor for buses currently being built in Brazil.
Otherwise, sitting here wearing out my armchair. Will go for a walk round the block later on.
Stay safe. Malcolm
[ All this from your worn armchair! I agree, very satisfying. Some time let us know more – just random Googling? For the benefit of me and others this is what Wikipedia says, "The Hybrid Air Vehicles HAV 304/Airlander 10 is a hybrid airship designed and built by British manufacturer Hybrid Air Vehicles. Comprising a helium airship with auxiliary wing and tail surfaces, it flies using both aerostatic and aerodynamic lift and is powered by four diesel engine-driven ducted propellers." Maybe Malcolm is researching "How to build an Air Ship". Malcolm has inflated ideas. ]
Graham virtually standing in Sale Men's Shed, Victoria December 1st 2014
Well, the backdrop is Sale Shed but this is Graham in the now more than 5 years on! He's ready to Zoom video conference with Patrick Abrahams of Frome (UK!) Men's Shed for the Shed Radio Show in just under a fortnights time. It will mention Graham's first visit to a Shed. It is Steam Radio but with Zoom you can set atmospheres with backdrop images and Graham wanted to be in the mood.
Want to Zoom? We'll help you set up on your phone or laptop.
CaVCA appointed to a support coordination role for Whitby
COVID-19 – what is CaVCA doing?
All our sites are shutdown. Our community support projects are operating virtually where possible.
All CaVCA staff are now engaged in support delivery.
We have been commissioned by NYCC to focus on Whitby and surrounding areas.
Our non-emergency support offer:
Telephone/email friendship service
Support with collecting shopping/prescriptions
Information and guidance to self-isolators or otherwise affected
Brokerage service for offers of help.
If you need help, or can offer help, let us know by leaving a voicemail on
01723 362205
Please remember this is a non-emergency number, use 999 or 111 in the event of one. Control centre numbers for SBC 01723 232323 and NYCC 01609 780780.
Best Regards
Mel Bonney-Kane, Chief Executive Officer, Coast & Vale Community Action
Charlotte Angus is part of CaVCA but appointed to the important Community Link Worker role with the Heartbeat Alliance surgeries.

All staff are under considerable and sustained pressure over and above their everyday life.

CLAP NHS and Support Workers generally.
Mulgrave and Staithes Shed
These two notices were posted on the Together in Whitby during Covid-19 Facebook page. There are some ideas now and in the future where Staithes Area Shed can work with the community action described by Malcolm Jackson. People's Health Trust and our Project Officer Charlotte Gal are continuing to support the Staithes Shed in beneficial unexpected ways.
Received this from Malcolm Jackson in Mulgrave area. An account of what the community with church is up to.
"We in my group of parishes have put a leaflet through every door (almost a week ago), offering help to pick up and deliver shopping, to post mail, to make a friendly phone call, to provide urgent supplies. We have a list of food outlets who are willing to assist, a large team of suitably selected volunteers, and me.
All our churches are closed until further notice not even the Clergy are allowed in to them for private prayer. I'm in regular contact with the head teacher at Lythe Cof E school and they know I'm available for spiritual support. I do a Facebook Live morning and evening prayer service from home to all my congregation members who wish to join. (others welcome too)
We are doing our best. I'm happy to be contacted and we can delegate from the team as appropriate in Mulgrave area.
Keep safe, Malcolm
More positive news for Mulgrave. People's Health Trust who funded the Staithes Area Sheds have approved the use of monies that would otherwise have been used within the ongoing Sheds to be used in a discretionary way to help the community.
New guidance is being provided but it is a matter of flexibility to best help in the developing circumstance of coronavirus. Accordingly, they have agreed that Staithes Shed can assist the "Mulgrave" team through Malcolm Jackson.
From campaigner and ex-Shedder (not parrot) Ian Lawson. He leant pyrography at Staithes Shed when he thought the Shed could not really be for him. A man with a great sense of humour. Some deep, insightful reflections from him regarding younger generations and some positives in changes brought about by the virus threat. [edited :-)]
'Ey up,
All good in my isolated bunker near Mickleby. I was doing some Pyrography which reminded me to reply to your email. I listen to mainly Irish country music while wood burning, exchanging jokes on WhatsApp & Messenger . . . . . [and challenging organisations and authorities on disability access rights] . . . It keeps me busy.
Changing direction – the positives in this Corvid 19 pandemic are there if we all look for them. Zoom, GoToMeeting & MSTeams are the future for meetings of all sorts including NHS face to face appointments ….reducing the need to travel by car, bus, train or plane = reducing pollution & saving money.
A huge lesson for younger people is the value of savings, to get them through tough times like these …. then avoiding debts / hire purchase on stupidly expensive smartphones, cars & insurance. Please let me know of the positives that I've not mentioned … there will be some.
Life for everyone has changed for the foreseeable future. Despite being an optimist, I am very concerned for this country's financial future. It doesn't matter to my wife and I but my concern is for the younger generations.
Cheers Ian Lawson
. . . . more positives are: realising our dependency on each other; that in the present we have the time to care and reevaluate what is worthwhile; that we live in a wonderful environment; that we can all learn about restrictions that tie us to home which many have to live with as a usual way of life. DO OTHERS HAVE THOUGHTS.
Look at this for the way things are going with technology assistance. https://vimeo.com/197525859