Here are some contributions to encourage us as we begin to look forward.
Graham's chats with Sheds in the North East on behalf of UKMSA have progressed and he has met on the phone two small Sheds (like ours) at Seacroft (Leeds) and Bedlington (Northumberland). Seacroft Shed and Earth Balance Shed (the latter named after the complex they are located on).
Some photos will be added hopefully but for now this is a link to Earth Balance Shed site http://earthbalanceshed.btck.co.uk/
Here are photos of Earth Balance Shed, a very tidy place of the size we are used to!
Listening to the Shed Radio Show (Frome Radio) and Shedder Elaine's question was asked.
Hi Shedders from Patrick – A big "Thanks" for sending in questions for the radio show "Shed Happens" #8 (13th May ). We hope that most of the questions were addressed. (Listen to Part 2 for these discussions.)
Whole show here
Part 2 only here
Photos from Esk Hall Facebook page of Bingo using the kit given by Sleights Area Men's Shed (part of Whitby Area Sheds).
Wonderfully cheerful photos of all but delightful to see our Dennis beaming!!
Now, Shedder Roger's first draft take on the practicalities of our Sheds reopening.
Littlebeck Shed post covid19
Shedders feeling too unsafe to attend
It has been said that we are the 'most scared country on earth' at present, but I believe most Shedders are very keen to regain the companionship of the sheds. However there are some who are involved in 'Shielding' and these rightly will not feel able to return while those they are protecting remain at risk. I cannot see a safe solution to this.
Difficulty managing Social distancing within the Shed
In fine weather there is often a preference to work outside, and the annexe provides additional capacity, but clearly this is not so easy in wet weather, although we could consider using the sail to provide an element of rain protection. Once the air temperature drops, 4 people in the main room is probably the limit plus two in the annexe.
Shedders not being able to travel to the Shed within Social distancing
This is a very real problem. We currently transport non-driving Shedders, some each way, others one way, and the duties are shared on an ad hoc basis. Social distancing within vehicles is difficult and while masks help the need to clean the vehicles afterwards is tedious.
Reduced income as a result of reduced Shedders attending
Yes. What else can you say, other than consider raising income from activities or new funding?
Costs of providing Personal Protection Equipment or cleaning materials
I do not see the cost as the major problem, rather the availability of what we need. Gloves and masks are simply not available and maybe this is where the UKMSA could act as a bulk purchaser, or as a consolidator of orders to ensure we can function.
(Marie Keen has agreed to have a go at making fabric masks for the Sheds possibly using T-shirt material. Well done Marie!. Others can help!)
Difficulty in managing shared tools or equipment cleaning
Common sense should cope with this.
Need to increase First Aiders or Machine minders
If the solution becomes one of opening more days per week then the presence of a first aider may well be an issue.
How to increase the number of sessions
Negotiation? Both morning and afternoon sessions. Rationing attendance.
Have purposeful ideas for some projects that we have in our heads.
This is surely about considering our role in our community, and raising our profile so that we are seen as an effective resource within the area.
Roger J Gould 8.5.20
WE WILL POST THE DISCUSSION NOW TAKING PLACE ON THESE VERY TOPICS. https://www.mixcloud.com/FromeFM/8-uk-shed-show-130520-pt2/
Here is a face mask video from Paula Wheatley to help Marie
Another aspect of getting going again is to remind everyone that the Sheds exist.
Malcolm gave some thinking on this about Staithes Shed
Afternoon Graham & Brian,
Re previous email asking for suggestions post pandemic. Here's a few you may wish to put into the pot for consideration.
Staithes is a small coastal village. The Staithes Shed is a stand alone self contained Shed within the grounds of the Sports & Social Club which is our Landlord.
Unless I'm mistaken, there is definite scope for the Men's/Women's Shed involving themselves further in the local community. A couple of suggestions for consideration, all of which is subject to the pandemic.
a) Leaflet to every residence in Staithes
i) To let everyone in the village know we exist
ii) Advise of Open Day, see b) below
iii) Ask for suggestions to submit for discussion on Open Day
iv) Approach every village organisation to see if there's anything we can do for them
v) Talk to Staithes Parish Council
vi) Talk to every Staithes business
vii) Take part in the Staithes Annual Show.
b) Have an Open Day (couple of Hours ) part of which could be a meeting in the Social Club to introduce ourselves and discuss projects. A meeting of existing Shedders required to discuss/plan the Open Day. Also, a possible opportunity for the Social Club to show themselves.
c) The Social Club, our Landlord, under new management, is facing hard times. Involve ourselves more with the Club, events etc. Something the, the new landlord, could bring out in the Open Day. Though not compulsory, encourage Annual Membership which is 'little money'. Good for the Shed and good for the Club.
d) What would the Ladies like to see, but also open to Men? One day just for Baking/Cooking, swap recipes, socialise, but also open to men. May need a better power supply if cooking.
e) Be good if anything comes of building a boat.
f) Has the Garden Club any projects they would like us to do for their members?
Hopefully, there may be sufficient suggestions from the above and others to keep the Shed busy and involved with the community.
The way things are going with this pandemic, start planning the Christmas Party.
The Clinker Boat Building book arrives this week. Wood arrives for the Garage gable end cladding this week. AAA Roofing comes Tue Wed to do the Dormer bathroom. I'm now considering building a Self Watering (SIP) Sub Irrigated raised bed with 5 plastic bin compartments which could easily switch to Hydroponics if needs be.
Keeps me occupied if nothing else. Must get a life.
Malcolm
PS The lack of a haircut is transforming my image, from Freddy Boswell to Ken Dodd and now, according to the outlaws, Father Jack Hackett from the Father Ted series. Cheeky.
Though must admit, there is a very strong similarity.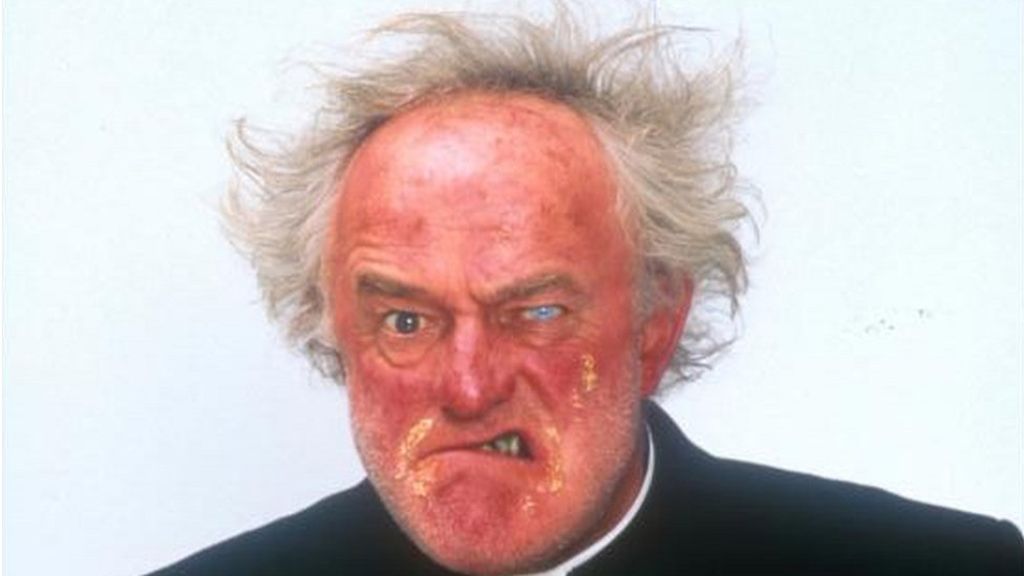 Is this Malcolm or is it Father Jack Hacket?
We will be trying to source some dust masks for the Sheds.
Shedder Brian made a table planter for a colleague who volunteers with him at Farmers' Breakfast in Lythe.
The breakfast is once a month usually but not now!
Brian (the other one!) posing with it. He has a door going begging if we want it (the one to the left of planter ) very heavy internal door. Oh & 2 chairs ( dining room type, leather look ) plus lots of wood if we need any as if we didn't have too much already courtesy of Tom 😂
Now for all you budding bakers. A video of caution.
Happy Birthday Boy, Big Col
Big Col, a member of Staithes Shed, celebrated his birthday today, a fact revealed by his Facebook entry. It is quite a large number:-) Colin is on the left of the photograph. He kooks pretty normal which is more than can be said for the figure on the right! It was a meeting on Messenger.
Colin was on great form this afternoon have Zoomed (yes Zoomed) with relatives in various places. He's been in Larpool Care Home for 9 weeks now and has had his ups and downs in coming to terms with the situation. He's been working out how the change in his situation can open up other possibilities for him.
In due time, when we can all be free to move around, we'll make sure he can go to Staithes and/or Whitby Sheds as and when he wants and we are exploring the possibility of videoconferencing for him to participate online too. He might become an online Shed Ambassador for other residents!
Staithes Shed launched an e-Birthday Card and Malcolm also sent greetings in an email.
Here is his postcard CLICK HERE
Marie finds a sock mask design! It's in double Dutch.
LET'S HAVE A FACE MASK COMPETITION. USING A SOCK, ANY OTHER ITEM OF APPAREL OR A PIECE OF FABRIC.
Here's Graham as the Masked Stranger.
Missing Cat
Can you help find the missing black and white cat?
Even Graham is looking forward.
His lathe arrived finally and he made an attempt on a wooden bowl. This is only the second bowl he has ever made. The first was about four years ago under the tutelage of Keith Nellis.