Well, we've moved on two weeks from Mental Health Awareness Week but the issue does not go away, of course.
Below is a piece published by BBC about the ongoing fight against depression in the life of a notable sportsman. Published 30th May.
Great Britain's three-time Olympic swimming champion Adam Peaty says gold medals will not solve his problems.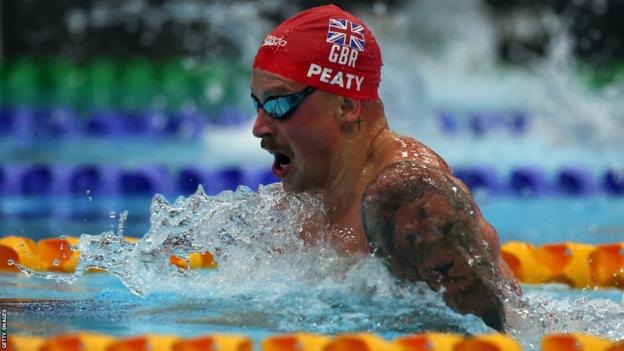 Peaty has previously spoken about periods of depression and problems with alcohol, and recently said he had been in a "self-destructive spiral".
He pulled out of April's British Championships, citing mental health issues.
"A good friend of mine said a gold medal is the coldest thing you will ever wear," Peaty told BBC Breakfast.
"It's the coldest thing because you think it will fix all of your problems. It will not."
Peaty, who still intends to compete at next year's Olympic Games in Paris, has said his depression and problems with alcohol worsened last year as he struggled with injury, motivation and the breakdown of his relationship with the mother of his young son.
He was also diagnosed with attention deficit hyperactivity disorder (ADHD).
"I took a break because I was on this endless search of a gold medal or a world record and I looked into the future and I said 'OK, if I do get that is my life fixed or any better?' No," Peaty said.
"So take the time now to really think about who you are, what you want out of life and then get the gold medal.
"Hopefully when I get to the Olympics I will be in a very good mindset, very grateful and most importantly happy."
Peaty has dominated his breaststroke events for nearly a decade, successfully defending his 100m title at the Tokyo Olympics in 2021 having earlier that year set a record for the fastest 20 times in history over the distance.
Over his career he has also won eight World Championship gold medals, 17 golds at European Championships and four golds at the Commonwealth Games.
Despite the success and his world record being nearly a full second quicker than anyone else has ever swum, Peaty says he hears voices in his head which often make him doubt his swimming abilities.
Asked what voices would say, Peaty said: "If I was going out to a race sometimes it would be 'you don't deserve this', even though I've done seven, eight, 10 years, a decade of work.
"Or sometimes it would be a voice of self-doubt, and I think that's natural because it's your brain trying to protect itself."
Peaty missed out on Commonwealth gold in the 100m breaststroke event in Birmingham last year, finishing fourth behind James Wilby after sustaining a broken foot in the build-up.
"As athletes our brains are wired a little bit differently, we're constantly chasing reward and if we can see that reward we will work extremely hard for that reward," Peaty said.
"So it's the same in your life and how do you fill that void especially when you're injured or in off-season, you're constantly looking for a high or a reward and a lot of athletes do struggle with alcohol.
"For me it was something that I was constantly chasing and constantly doing and I was like 'I don't want this in my life, I don't really want to do this all the time.'"
So, striving for the top and trying to stay there can have a price to pay. Something some of our Shedders know.
Don't fence me in was the title of a song in olden times. Staithes is not building fences but a great wall around the greenhouse base.
Today was an important one at Staithes shed , Malcolm had returned from his holiday in Madeira and Graham called in on his way to Whitby, both present and correct they conducted a detailed inspection of the greenhouse progress.
Malcolm was in his role of chief architect and Graham in his role of "CPO " (Chief Pallet Officer) inspected the work so far and also helped fasten additional planks and wooden braces to strengthen the pallet base ready for the greenhouse top and cladding to go up.
Jim helped in his role as Individual Drilling Into Organised Timber ( IDIOT … ) , a role that somehow suits him …..
*** The story behind the strange poses in the photo is that Jim told Malcolm and Graham to look as if they were doing something. He suggested pointing somewhere. Graham chose the blue yonder. Malcolm pointed out a problem. Jim showed his idiotic grin. Brian was inside making tea for Graham's wife who was trying to contain her enthusiasm for Sheds!
Graham used to live in High Wycombe, down South.
He used to go to a rubbish tip appropriately called High Heavens. Today it featured in a news article celebrating the way the Tip had evolved. Take a look if you are into recycling or looking into roadside skips!
Can people really fall in love with their local tip?
https://www.bbc.co.uk/news/uk-england-beds-bucks-herts-65695839
Dirty Dusting
The play at Whitby Pavilion theatre that has run for 3 nights. Whitby Town Shed was chosen to share proceeds of a raffle and the Shed has been at the performances to help sell raffle tickets. That was the evening destination for Graham's visit to Whitby where he joined forces with Bryn.
It was a very interesting experience because as we approached people in the cafe area there were few refusals to purchase when people were told about the cause and the help given to some men and some women too.
If you see a photo taken by Jo of Beach Sweep that shows us selling raffle tickets to an audience member we hereby say it is a fake. If it falls into our hands you'll see the fake news and make your own judgment!
Whitby Town Shed with the event Big Top
A lot went on today after we had to "force entry" to the Eskmouth Scout Hall. The Scouts were aware of what we might have to do and had a strange trust in Shedder Tony.
But the new Event Shelter to be shared by the Whitby Sheds and Norton Shed was erected to make sure, as Rob put it, "We don't look idiots on the day we need to put it up publicly." Very true but instead of that we made idiots of ourselves in private although with Krampus Krew getting some mild amusement.
The Big Onion was started in the lathe by John. It's in oak so maybe it will morph into an acorn from a mighty oak!
Wednesday afternoon visit to BayThorpe Shed
It was not a usual time for the Shed, but whilst the opportunity was taken to gather photographic evidence that they do work there!
We near the end of the week with two significant accounts by Whitby Shedders
Rob visits… Andy's Man Club in Scarborough
Andy's Man Club is a UK charitable organisation described as 'a talking group, a place for men to come together in a safe environment to talk about issues and problems they have faced, or are currently facing'.
Our nearest group is in Scarborough, they meet every Monday at 7pm and last week Rob went along to join in.
He was greeted by a facilitator who explained the rules:
Members are asked not to discuss politics, religion or medication and anything said in the room 'stays in the room'.
A group of about 15 men gathered in a circle and one of the facilitators started proceedings. The meetings are very structured and have a 'professional' feeling.

A question is raised and a small football passed from man to man. You can only speak whilst holding the ball but when you have finished other members can raise their hand to comment.
Following an icebreaker round (say your name and why you are here) further questions follow:
What do you want to get off your chest?
Say something positive that has happened during the past week?
Name a place where you feel safe?
It was explained than no-one is obliged to say anything and can simply pass the ball on if they wish.
Rob's turn came;
'I took the ball and spoke of an issue that was bothering me. I felt that I was listened to and three men volunteered feedback. This was particularly helpful and gave me quite a lot to consider. It was a very cathartic experience'.
The evening progressed in a supportive manner and towards the end members agreed how much help these meetings provide.
Andy's Man's Club hope to establish themselves in Whitby soon… let's hope this can happen.
Please note that photos are generic and do not show Scarborough members
Marie's Story of particularly the past 18 months
The Whitby Town Shed in particular has made a great – indeed vital – difference to my life.
I moved to Whitby in 2012 when i was forced into early retirement after an accident at work caused a serious head injury. The injury left me with some very serious health issues and turned my world upside down. After being very active I now had limited mobility, vertigo, poor concentration and serious headaches to deal with daily.
These health issues left me feeling isolated and alone.
When the Whitby Gazette newspaper ran an article about a 'Shed' being opened locally, I made enquiries and soon became a member. The weekly sessions gave me a new lease of life and turned my life around – I felt I now had a sense of purpose and as my confidence grew within the group,
I felt confident enough to try other things like a City & Guilds embroidery course and the skills I learned on that I was able to share with other members.
Then, in 2022, I was diagnosed with Stage 4 secondary breast cancer and the treatment unfortunately prevented me from attending the group in person for several months. However the support I received from the group and from individual members was unbelievable and got me through a very traumatic time. I was connected and belonged.
Zoom meetings were set up allowing me to take part remotely and speak to other members. Home visits from Shedders also helped me to recover. The Shed introduced me to Alexa, providing me with equipment and Alexa is now a part of my support. I talk to her and on a number of things she acts as my memory!
As I don't have much family to support me, the Whitby Town Shed was and is a vital lifeline, Its support meant I could return more quickly on a Wednesday and I am now fully back and involved and contributing to the group.